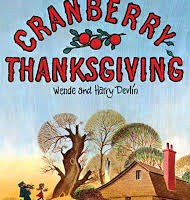 Our next family night for children in kindergarten through third grade will be held at 6:30 p.m. on Monday, November 16, in the Draughon Room (lower level) of the library.
It's a celebration of Thanksgiving! We will be reading A Cranberry Thanksgiving and Turkey Pox. In addition, we will be making a Thanksgiving wreath, playing games, and enjoying refreshments.
Reservations are required, as space is limited. You can call the library at 471-4140 to make a reservation, or by filling out the form below.