Library timeline for reopening established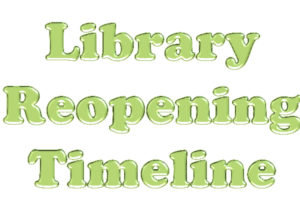 At the library's Board of Trustees meeting on Monday, May 4, the following timetable was approved for a gradual reopening of the library. All dates are tentative and subject to change.
May 5, 2020 — The library will resume curbside pickup service. Hours of service will be from 10 a.m. to 2 p.m., Monday through Friday. Our previous method of no-contact delivery will be observed. Patrons can place holds through their library accounts, or call us at 471-4140 to request specific books. Patrons are asked to call us again from the parking lot so that we can pass materials through the window to the left of the front doors and place them on the bench. We ask that all returned items be placed in the outside book return for daily retrieval and quarantined for 48-72 hours. Our virtual storytimes will continue. Library staff will resume book talks for adult books and begin book talks for young adult books.
May 21, 2020 — Our tentative plan is to reopen to the public with shortened hours – 10 a.m. to 5 p.m., Monday through Friday, and limited services. A limited number of public access computers will be available; half of the computers will be taken out of service to promote social distancing. Half of the seating in the reference area and reading room will be removed to promote social distancing. We plan to have Plexiglas barriers in place to protect staff and patrons at the circulation desk. All books returned over the counter and through the book return will continue to be quarantined for minimum of 48 hours until threat of coronavirus is deemed to have passed. The library's community rooms will not be available for public use during this time. No face-to-face programming will be offering, but virtual programming will continue.
June  1, 2020 — The tentative plan is to resume regular hours on Monday, June 1. We will continue to practice distancing for computers and in the reference area. Quarantining of books will continue as long as the threat of spreading the corona virus remains a concern. Use of McAmis Community Room will be allowed for small groups only as long as it is not in use for library activities.
TIMELINE FOR SPECIAL EVENTS
Annual Used Book Sale
The annual used book sale will be postponed until late summer. We are committed to having the book sale, but current social distancing rules are not conducive to a fun, successful sale.
Summer Reading Program
The timeline and structure of our Summer Reading Program is still evolving. We are committed to bringing summer reading programming to the children of our community in a fun, safe manner, in whatever form that may take.