Mother-Daughter Tea set for May 5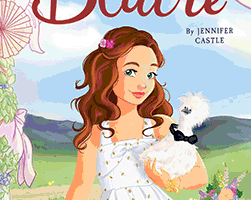 THIS EVENT IS FULL!!
Girls in second-fifth grades, along with their mothers, are invited to the annual Mother-Daughter Tea at the library. The tea will be held from 1-3 p.m. on Sunday, May 5 in the Draughon Room (lower level) of the library.
Come join us for a lovely afternoon tea at the library!
Meet Blaire Wilson, American Girl's 2019 Girl of the year! Chef. Decorator. Chicken wrangler. Blaire does it all at her family's restaurant, inn, and farm.
We will be reading about Blaire, taking tea and refreshments, making a planter, and playing an American Girl game.
RESERVATIONS ARE REQUIRED! Space is limited to the first 30 girls registered. Please call 471-4140 or fill out the reservation form below.