"Build It Better with Balloons" on June 26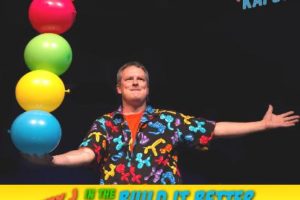 Our third and final Summer Reading program, "Build It Better with Balloons," will be held at 10 a.m. and 1 p.m. on Monday, June 26, in the Draughon Room (lower level) of the library.
Join SAMMY J as he shows different designs, styles and structures – using BIG BALLOONS! With help from audience members, he will assemble them into amazing frameworks to teach the history of architecture, types of construction and styles of buildings. Filled with comedy and surprises, the Build It Better With Balloons Show emphasizes books that encourage kids to learn about construction and design. Sammy will ignite imaginations, the hands-on hijinks will inspire, and the periodicals will infuse young minds with the desire to learn.