Bobby Norfolk returns!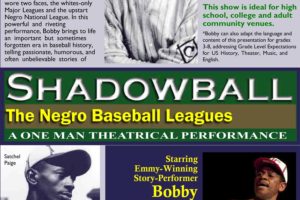 The Sikeston Public Library is excited to announce the return of Bobby Norfolk to the library at 6:30 p.m. on Tuesday, November 7, in the Draughon Room (lower level).
Bobby Norfolk's latest living history performance takes us on a fascinating journey through the heyday of the Negro Baseball Leagues, a time when this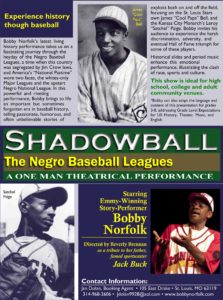 country was segregated by Jim Crow laws, and America's "National Pastime" wore two faces, the whites-only
Major Leagues and the upstart Negro National League. In this powerful and riveting performance, Bobby brings to life an important but sometimes forgotten era in baseball history, telling passionate, humorous, and often unbelievable stories of exploits both on and off the field, focusing on the St. Louis Stars own James "Cool Papa" Bell, and the Kansas City Monarch's Leroy "Satchel" Paige. Bobby invites his audience to experience the harsh discrimination, adversity, and eventual Hall of Fame triumph for some of these players. Historical slides and period music enhance this emotional performance, illustrating the clash of race, sports and culture.
This program is presented through a Spotlight on Literacy grant, supported by the Institute of Museum and Library Services under the provisions of the Library Services and Technology Act as administered by the Missouri State Library, a division of the Office of the Secretary of State.