Library seeking to fill part-time position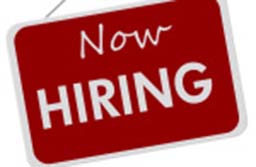 We are seeking a fill a part-time position (27-32 hours/week) for a circulation clerk.  Must be available days, evenings, and weekends (on rotating basis). Targeted start date will be February 5, 2018.
The successful applicant must have customer service experience and knowledge/comfort level with computer usage.  Library experience or training is helpful, but not necessary.
Applications are available at the circulation desk during regular library hours. Applications will be accepted through Wednesday, January 17, 2018.
The library is an Equal Opportunity Employer.